Collaborate with ClicktoTherapy
More and more people are trusting Clicktotherapy to start psychotherapy, that's why we are constantly looking for new psychologists who want to work with us.
BE A PARTNER PSYCHOLOGIST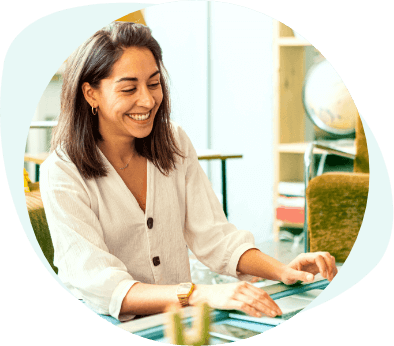 Why work with ClicktoTherapy?
Flexibility & Transparency
Through the dynamic booking system, you can define both the amount of cases you will take on and your available timeslots. That way you can work full time or even to enhance your existing income! In addition, you choose your place of work as you can provide your services from your office, your home or anywhere else you have access to the Internet.

There is no charge for using the platform and your payment is proportional to the number of sessions you complete.
Become member of our Community
You can participate in peer supervisions which allow you to enrich your clinical practice. Members of Clicktotherapy psychologists' community meet monthly in groups and supervise their cases completely free of charge.

In addition, being a member of the Community you can enjoy interesting discussions and exchanges of views between colleagues through a specially designed platform for this purpose, as well as participate in various events that are planned.
Do only what you do best
We take over all the administrative tasks, which distracts you from your practice, and, through our innovative algorithm, we assign you cases that suit your range of expertise. Now, you will be able to deal with what you love.
Join our vision
Our vision is to help the world live better by providing everyone with easy and meaningful access to a Psychologist! Do you want to join us?
What is the selection process of our partners?
We evaluate your application
If the standard qualifications are met, your application moves on to the interview stage.
Introductory interview
You will have a 20' interview to learn more about ClicktoTherapy, the way of working and an introductory discussion of your qualifications. Grab this opportunity to ask questions and solve your queries.
Interview with the clinical team
The final stage of the process which will be a fairly technical interview regarding your therapeutic approach, experience, studies, etc. It is important to have actual cases in mind, to make a reference.
The offer
Congratulations, you are now part of the ClicktoTherapy community! You create a ClicktoTherapy partner account and start doing what you do best!
Required qualifications
License to practice the profession of Psychologist
Professional experience providing mental health counseling services
Psychotherapeutic training
Individual therapy
Interest in continuing education in modern models of counseling and psychotherapy
Continuous supervision (in case there is no supervision, it will be provided through Clicktotherapy)
What our partners psychologist said about us
The platform provides a supportive environment for me and the therapee. It's like you would be in a mental health center. That, I think, makes it much easier for people to seek psychotherapy at Clicktotherapy. On a symbolic level, the relationship between the therapist and the therapee is not binary. There is someone who can check on me, who will ask if I am doing my job well or not, who will remind me of my appointments. I, having a psychoanalytical approach, if such issues come up, I integrate it into the therapy, I analyse them. And it's interesting what it can mean for a therapee to know that if they don't like something or if they get angry with me, they can turn to a third party, for example someone in charge of the platform, who on the one hand is someone outside the relationship between the two of us, on the other hand it is part of the wider system of the platform. And it is important that in case of such incidents, the platform does not trigger the conflict, but takes a neutral position urging the therapee to discuss it with the therapist and make a common decision.

It's very rich, and I think the dynamics that are developed are different from those developed when someone goes to a psychotherapist on their own. They are more complex and important mechanisms.

So I think that the platform is a third party in the binary relationship, a framework with integrity, which has decided that we are a match and has brought us together. It has a paternal role, it is what arranges and defines the relationship, it is not the two of us to do whatever we want. The role of the platform is primary, since the therapee has primarily turned to the platform.

Nadia Lagga

Partner psychotherapist - Psychodynamic approach

I have referred people I know who were looking for psychotherapy to Clicktotherapy, with the caveat that they don't match with me. It's a very good opportunity, very good platform. I have also recommended fellow therapists to apply and they are equally happy.

I personally feel safe to refer to Clicktotherapy because I have seen that there is a thorough assessment of the therapists before they join the team and take on cases. Therefore someone who goes here, knows that it is a protected framework with professionals and feels safe. They know that there will be quality in what they invest. I am not referring only to the financial investment, but to the overall psychotherapeutic process, which has mainly a mental investment. The therapee expects that the therapist will listen to him, understand him and analyse with him what is expressed in therapy. Psychotherapy is a restorative experience and if the psychologist does not have the proper training and tools, it can be traumatic for the client. Other platforms ask for a review from those being treated. However, this evaluation comes after the therapy and cannot guarantee the effectiveness of the services.

Georgia Koutsoukou

Partner psychotherapist - Systemic approach

I have already suggested, friends who live abroad and obviously I cannot undertake them, to start psychotherapy at Clicktotherapy, we do a good job here.

So far, many of my therapees recommend the platform to their friends to join Clicktotherapy. So I see that my therapees also feel that the work done here is good.

I have also recommended it to colleagues. I, personally, am very happy with the platform and I think that more people should know about it, both professionals and therapees. Because, the truth is, there is nothing like that. Myself and my colleagues are also seeking but there is nothing similar. Other platforms don't work the same way. As a platform partner what I like is that my financial agreement is with Clicktotherapy. While on other platforms, what happens is that I have to find the therapee, and the platform gets a commision. Therefore, I feel very confident and secure as a partner that I have a very good partnership that I can rely on. I feel like I'm giving, but I feel like I'm also getting from the partnership. I would say this is the biggest advantage over other platforms.

I haven't found what Clicktotherapy does anywhere else, so I love being here. More generally, in terms of cooperation, I feel a lot of support in the administrative part as well, but even if I need help in relation to someone being treated. I feel that there is support and I can rely on my cooperation with the platform. And even though it's online, I don't feel any difference from when I was working with physical centers. I feel the same immediacy, and while I don't see you, I know you are here.

Athina Maximiadi

Partner psychotherapist - CBT approach
BE A PARTNER PSYCHOLOGIST