Online Psychotherapy
Online psychotherapy is the practice of providing psychological services that use the Internet and digital media (computer, tablet, mobile phone) to conduct sessions.
When a client communicates with her/his Psychologist through chat or video call, she/he is participating in online psychotherapy.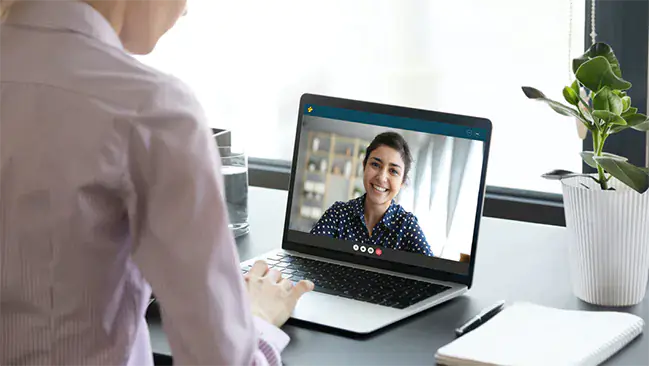 How has distance psychotherapy evolved historically?
Online psychotherapy belongs to the broader category of telepsychotherapy. Telepsychotherapy emerged in the 1960s, involved psychotherapy over the telephone and was developed to meet the need for intervention and support in populations with characteristics that prevented face-to-face sessions. Such populations were either civilians living in remote areas or even soldiers in need of urgent psychological intervention to manage symptoms of post-traumatic stress.
Inevitably, the trajectory of online psychotherapy follows that of the spread of the Internet. Many consider its arrival to be traced back to 1986 and refer to early forms such as mental health discussion forums. However, most agree that online psychotherapy in the form we know today began to develop in 1995, alongside the introduction of the digital camera.
Shortly thereafter, in 1997, the establishment of the International Society for Mental Health Online was an important factor in promoting and consolidating online psychotherapy. This organisation was the first support for mental health professionals, making an essential contribution to their communication and information in order to promote online psychotherapy.
Videoconferencing Psychotherapy is now the predominant form of online psychotherapy and is conducted following the official guidelines of the American Psychological Association (APA), as published in 2013.
Why are more and more people preferring online psychotherapy?
The Covid-19 pandemic drastically pushed the search for online psychotherapy and psychotherapy via videoconferencing. More and more people worldwide became familiar with this method of conducting psychotherapy and adopted it. Nevertheless, the significant advantages that it presents compared to face-to-face psychotherapy had made it a prominent alternative well before and for many people.
Effective
Overall, research on the effectiveness of all forms of online psychotherapy confirms its effective impact. In particular, it appears that in cases such as generalized anxiety disorder it increases therapeutic alliance. At the same time it shows effective reduction of clinical symptoms in a fairly wide range of mental disorders such as cases of major depressive disorder, eating disorders, post-traumatic stress disorder, obsessive-compulsive disorder and social phobia.
Comfortable
Online psychotherapy requires less organization and time than face-to-face psychotherapy. The person in therapy simply needs to be in a quiet and comfortable space of their choice and connect digitally with their Psychologist. At the same time, she or he spends significantly less time, as travel to the Psychologist's office is eliminated. In addition, in our time, internet communication might be a more comfortable process of communication and expression for many people.
Certified
The therapists, we work with are certified and licensed Psychologists to conduct psychotherapy for a wide range of issues such as depression, anxiety, trauma, couples therapy, etc. All of our therapists undergo a rigorous evaluation process.
Secure
We securely encrypt all communication information between psychotherapists and their clients. We subject all our systems to regular security audits and all our psychotherapists adhere to strict professional and ethical codes of client confidentiality.
Accessible
Online psychotherapy via video conferencing allows anyone who wishes to participate in psychotherapy to do so, even if they lack the ability to travel or live in a remote area. People with mobility difficulties or chronic illnesses who cannot easily move or leave their personal space to visit the Psychologist's office. In these cases especially, online psychotherapy via video conferencing is a unique solution for anyone who wants to be supported psychologically.
Affordable
Compared to face-to-face therapy, online psychotherapy is on average a more affordable option. In addition there are more payment options to choose from.
How do I prepare for my first free distance psychotherapy session?
As with traditional psychotherapy, the first session of online psychotherapy via videoconferencing is free of charge, in order for the client to decide if they wish to proceed with the psychotherapy process.
For the best effectiveness of the first online session, it is helpful to ensure the following points:
Check that you have the necessary technological means to conduct an online session via videoconferencing, such as a mobile phone with a camera, tablet or computer and a satisfactory quality Internet connection.

Confirm that the Psychologist holds the relevant license to provide psychological services. All Psychologists that ClicktoTherapy works with are licensed to practice.

Manage the online videoconferencing session as a face-to-face session, being punctual at the time of the session, properly prepared and fully present in a calm and safe environment.

Ensure that you are focused on the session and free from distractions related to computer/mobile phone or tablet notifications or the presence of other people in the room.

It is recommended that you formulate questions about the therapeutic process based on these tips for tips for psychotherapy
Free first session
ClicktoTherapy platform has been awarded for its innovation in offering quality online psychotherapy services.
Experience online psychotherapy for free.
START NOW
What should I be aware of about online psychological help?
The psychotherapy process works in part by providing a safe, private context in which the person in therapy can freely and confidently express personal thoughts and feelings. Clients participating in online psychotherapy via videoconferencing might need to consider the following tips for maximum safety.
Ensure that the venue for the psychotherapy session is safe so that you can express yourself comfortably.

Confirm that your conversation with the therapist is private and protected from third parties.

It is recommended that you use headphones as they improve sound quality, comfort and sense of security.

Use a secure and password-protected Internet connection. It is important to avoid using a public connection.

Block access to their mobile phone or computer to third parties by locking them with a personal password.
Psychologists who provide online psychotherapy via videoconferencing need to be aware of the potential risks associated with security and privacy issues of the therapist. At the same time, they need to adopt solutions that minimise the chances of disclosure or leakage of personal data in order to protect their clients. ClicktoTherapy is aware of the potential risks presented in online psychotherapy via videoconferencing and has implemented procedures that detect and prevent security breach incidents. At the same time, Clicktotherapy complies with the General Data Protection Regulation (GDPR) as detailed in the Privacy Policy.
Is distance psychotherapy effective?
The last two decades have been characterised by the rapid spread of online psychotherapy via videoconferencing. At the same time, numerous scientific studies have investigated and confirmed its effectiveness. In particular, the pandemic period significantly boosted its spread as most Psychologists adopted it as an alternative method for providing Psychological services. So it seems that online psychotherapy via videoconferencing has entered our lives for good and is here to stay.
As in face-to-face psychotherapy, effectiveness in online psychotherapy is measured by two indicators, the first of which is the quality of the therapeutic relationship, and the second is the evolution of clinical symptoms.
• Strong therapeutic alliance
The therapeutic alliance is the key component of psychotherapy. The development of a good therapeutic alliance involves trust in the therapist, the ability to emotionally bond as well as the ability to emotionally detach. A strong therapeutic alliance is the most important predictor of the development and outcome of the psychotherapy process [1][2][3].
In a recent study [4], researchers comparatively examined the development of therapeutic alliance in videoconferencing psychotherapy and traditional face-to-face psychotherapy. 115 clients who had a diagnosis of generalized anxiety disorder were randomly assigned to the two therapeutic intervention methods. Subjects answered questions about the therapeutic alliance at the end of each session. According to the results, subjects who followed videoconferencing therapy established an overall better therapeutic alliance than therapists who followed face-to-face psychotherapy. More importantly, it was observed that in videoconferencing therapy the therapeutic alliance, although it took longer to consolidate than in traditional psychotherapy, scored significantly higher after the end of the 5th session.
Several studies have brought to light that clients are more favorable to be engaged in online psychotherapy via videoconferencing as compared to face-to-face psychotherapy [5][6][7][8]. In fact, many findings indicate that clients might feel more at ease with the therapeutic relationship in the context of videoconferencing psychotherapy as it is easier for them to structure it. In particular, many clients report that they experience online psychotherapy as a less intrusive and controlling experience compared to face-to-face psychotherapy [9][10][6]. Some even report that they experience a better ability to maintain control, even if it means interrupting the session [8].
• Reduction of clinical symptoms
Several systematic reviews exploring online with face-to-face psychotherapy [11][12][13][14] confirm that online psychotherapy via videoconferencing is as effective as face-to-face psychotherapy in terms of reducing clinical symptoms across a fairly wide range of Psychological dysfunctions. In particular, it has been shown that online psychotherapy via videoconferencing succeeds in reducing clinical symptoms in cases of major depressive disorder, eating disorders, post-traumatic stress disorder, obsessive-compulsive disorder and social phobia.
How does online psychotherapy work at ClicktoTherapy?
ClicktoTherapy is an award-winning online psychotherapy site. The client is treated in the same way they would be treated if they were to visit a psychotherapy institute. At first, an initial assessment is prepared based on clients' answers about their everyday routines and the quality of self-care. After that clients' motivation to start psychotherapy is analyzed and taken into account in order to complete the assignment to a specialized Psychologist.
The assigned Psychologist then undertakes the initiation and completion of a psychotherapeutic process with the client. Our associate Psychologists are all selected on the basis of scientifically established criteria and requirements for conducting effective psychotherapeutic processes. They are all professional Psychologists with university education, postgraduate training in the full range of psychotherapeutic approaches and many years of clinical experience.
When Online Psychotherapy is not appropriate
If you or someone you are close to is experiencing suicidal thoughts or behaviour, Call 112 or your country's suicide prevention hotline

immediately.

If you have been diagnosed with a mental condition that requires psychiatric monitoring.
Can I get treatment through texting?
Chat is provided to facilitate communication with the therapist and not as a therapeutic tool. As a more effective therapeutic tool, video therapy is recommended rather than messaging. For this reason, all sessions are conducted through our video platform.
How/where will the first free session take place?
Our sessions are done through our video platform. The process of logging in to the session is as follows:
First you register here
You answer some questions that help us to assign the most appropriate Psychologist based on your needs and motivation.
You start communicating with your Psychologist via your private room.
Finally, you make an appointment for your first free session.
Literature
Further sources